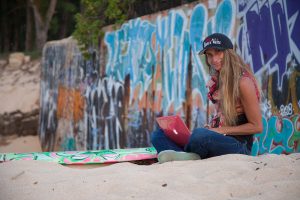 Lane Davey works as a graduate assistant and adjunct lecturer at the University of Hawai'i; Mānoa where she is currently pursuing a Ph.D. in English and writing a dissertation on surfing. She has two master's degrees in religion, with a focus on biblical studies, colonization, and comparative world religions. She has studied Greek, Hebrew, Syriac, Aramaic and Hawaiian language and wrote a thesis called The Moo Olelo of Joseph: an analysis of tract [No.8] Ka Moo Olelo No Iosepa which offers research and a word by word translation of the first Bible tract (the story of Joseph) that the missionairies distributed to the Hawaiian people.
LaneSki teaches several courses at UH Mānoa including REL200 Old Testament (Hebrew Bible), REL201 New Testament, REL150 World Religions and ENG100, the first year English Composition Course. She has also developed two new courses that are being implemented into to current course catalog; ENG271 Hip Hop Literature which she taught in Spring 2017 and ENG273 He'enalu (Surfing) that she is teaching this semester in the Spring of 2019.
LaneSki is an advocate of Hip Hop Kulture and volunteers her time to hold workshops and sessions in O'ahu's local community centers. Her background as an extreme surfer, pioneering b-girl (breakdancer) and journalist provide the foundation for a fresh and creative approach to education. LaneSki seeks to bring diversity to education through the arts and the blueprint of Hip Hop, which incorporates community and forms of "intelligent movement".
"Hip is to know, it's a form of intelligence. To be hip is to be update and relevant. Hop is a form of movement, you can't just observe a hop, you gotta hop up and do it. Hip and hop is more than music Hip is the Knowledge, hop is the Movement. Hip and Hop is Intelligent movement."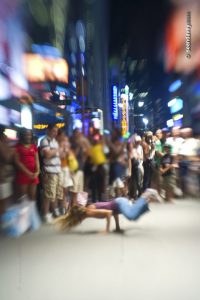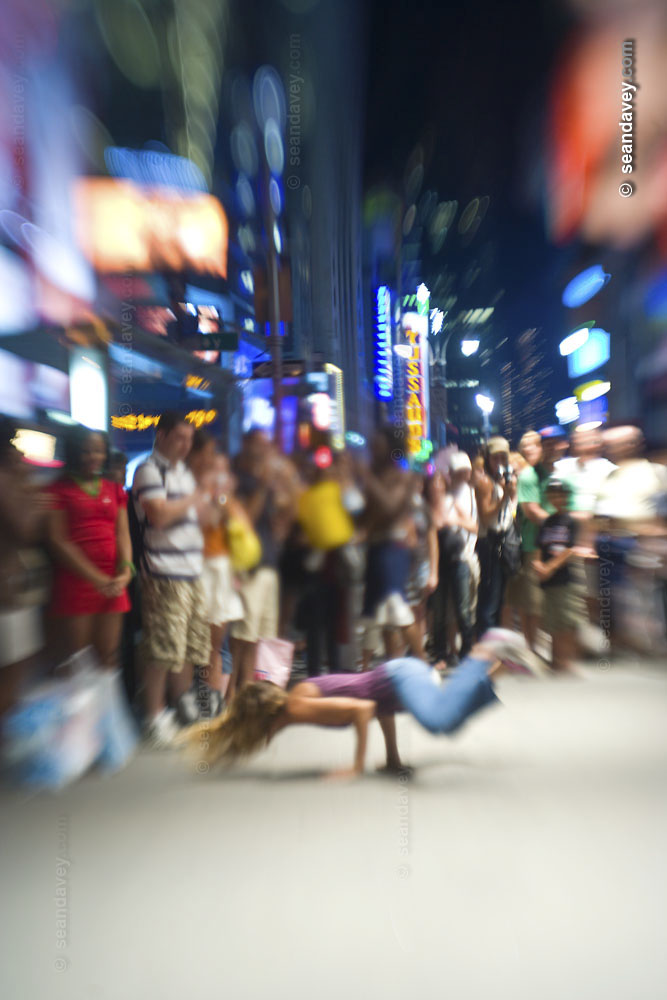 Professing "Intelligent Movement"
To me, intelligence is movement, therefore, learning should not be static nor stagnant. I often wonder why we are still confined to uniform desks under concrete structures with no windows and fake air, when we could be "out there," engaged in our environment, reclaiming our communities and embracing new technologies that make education accessible, applicable, and financially plausible for a more diverse population of our youth.
My practice of "intelligent movement," is set to challenge the fundamental core of our European curriculum by applying the five foundational elements of Hip Hop (b-boying, emceeing, beatboxin, djing and graffiti) as a pedagogical blueprint. This approach implements "performance" as a primary form of media from which to compose and translate texts. If it proves effective, we will be forced to literally abandon the building and figuratively reconsider the rigid structures that were initially set in place as a Christian civilizing mission. My vision for education is to work within our current system to recreate a new one. The blueprint of Hip Hop has provided the most powerful platform for protest in the twenty-first century and I think the revolution should extend into our education system.
ACADEMIC CONFERENCES
"Being one of da boyz & Us Girls: a collection of surf journalism by extreme surfer Lane Davey." Université Bordeaux Montaigne, France, SSAWW (Society for the Study of American Women Writers), Bordeaux, France (July6 2017).
"May The Force be with You as James Baldwin unveils Ubuntu."Chaminade University of Honolulu, PAMLA (Pacific Ancient and Modern Language Association, Honolulu, Hi. (November 2017).
"Against Althusser: The Stranglehold of Interpellation on Life Writing Studies." College of Linguistics & Literature (LLL), University of Hawai'i at Mānoa, Annual LLL Conference
B-Girl Workshop. Rock the School Bells Hawai'i, Honolulu, Hi. October 7 2017
PUBLICATIONS AND PAPERS (NON ACADEMIC)
"The Pipeline" Blog (Honolulu Star Advertiser)                                                  2008 -2016
"Living the Surf Life" Blog (Oceanic CableHawai'i)                                            2006 - 2010
"Hawai'i News" Columnist (Surfing World Japan)                                            2005 - 2008
Various articles- Freelance (FreeSurf Hawai'i, Tiare Girl Hawai'i,              2005 - 2012
Surf Life for Women California, Pacific News Media New Zealand,
Five Magazine San Francisco, Surfer Magazine California)
EDUCATION
University of Hawai'i at Mānoa
Currently working on Ph.D. in English                                                                              2018
University of Hawai'i at Mānoa
M.A. Honors in Religion (focus on Christianity and classical Hawaiian Religion)  2015
Thesis: "The Moo Olelo of Joseph" – An analysis of the translation in the first
Hawaiian Bible story
B.S. Fashion Merchandising & Design                                                                                 1993
Pacific Rim Christian College (Honolulu, Hawai'i)
M.A. Honors in Christian Ministry (focus on Biblical Studies)                                       2012
Thesis: "Fully Human" – A class curriculum for the study of the historical Jesus
AWARDS
Travel Award from LLL Graduate Travel Fund and SSHRC Grant                       May 2018
Theta Alpha Kappa Honors Society                                                                                      2015
Graduate Division Achievement Scholarship                                                         2014– 2015
TEACHING EXPERIENCE (ACADEMIC)
University of Hawai'i at Mānoa
Lecturer ENG273 He'enalu (Surfing)" a new wave of creative writing"     Spring 2019
Lecturer– ENG100 (Composition 1) – 2 sections                                            Fall 2018
Lecturert– ENG100 (Composition 1) – online                                                 Summer 2018
Lecturer– ENG100 (Composition 1) – 2 sections                                            Spring 2018
Lecturer– ENG100 (Composition 1) – 1 section                                               Fall 2017
Lecturer– REL150 (Comparative World Religions)                                         Spring 2017
Lecturer– ENG271 WI Hip Hop Literature "The Blueprint of Hip Hop"    Spring 2017.
Lecturer– REL201 (Understanding the New Testament)                               Spring 2016
Lecturer– REL200 (Old Testament/Hebrew Bible)                                         Fall 2015
Teachers Assistant – REL150 (World Religions)                                               2013-2015
Hawai'i State Department of Education (Central District)
Substitute Teacher – Grades K-12                                                                       2001- present
Education Enterprises: He'eia Elementary
Tutor – Grades 2-5                                                                                                  Spring 2010
Sunset Beach Elementary
Part-Time Teacher/ Tutor – Grades 2-5                                                             Spring 2004
Tutoractive: Hale'iwa Elementary
Tutor – Grades 2-5                                                                                                   Spring 2003
PROFESSIONAL TRAINING
Faculty Orientation to Online Training(University of Hawai'i at Mānoa)                Jan 2018
Graduate Assistant training ENG100 (University of Hawai'i at Mānoa)                   Aug 2017
Graduate Assistant training REL150 (University of Hawai'i at Mānoa)                    Aug2012
Substitute Teacher Recertification Course (DOE: Moanalua High School, Hi.)        June 2010
Tutor training (Education Enterprises: He'eia Elementary, Hi.)                             Feb 2010
Substitute Teacher Certification (DOE: Kahuku High School, Hi.)                           June 2005
Teacher Workshop (DOE: Kahuku High School – for testing standards)                  Spring 2004
Tutor training (Tutoractive: Hale'iwa, Hi.)
ACADEMIC SERVICE & MEMBERSHIP
Comp Rhet Committee UH Mānoa                                                                          Academic year
Member of DAHI (Digital Arts and Humanities atUHMānoa)                       Spring 2018
Ph.D. Student Representative for Policy Committee                                         Academic year 2017
Volunteer for PAMLA                                                                                                November 2017
Hawaiian Historical Society                                                                                     2017
Society of Biblical Literature                                                                                    2017
TEACHING EXPERIENCE (NON-ACADEMIC & COMMUNITY SERVICE)
Hip Hop Dance Instructor (Girlfest, Honolulu, Hi.) – volunteer                               Workshops 2008 -12
Hip Hop Dance Instructor (Girlpower, Blaisdell arena, Hi.) – volunteer                 Workshop 2010
Hip Hop Dance Instructor (Booth District Park, Honolulu, Hi.) – volunteer            Summer 2008
Hip Hop Dance Instructor (The Dance Studio, Honolulu, Hi.) – volunteer              Summer 2008
Hip Hop Dance Instructor (B-Girl Be, Intermedia Arts, Minneapolis, Mn.) – paid    Workshop 2006
Hip Hop Dance Instructor (YMCA Kalihi, Hi.) – volunteer                                      Summer 2006
Hip Hop Dance Instructor (YMCA Waipahu, Hi.) – volunteer                                Summer 2004
Swim Instructor (YMCA Mililani, Hi.) – paid                                                         Summer 1998
OTHER WORK EXPERIENCE
Us Girls Hawai'i "The Original Women's Surfline"
Owner/Designer –                                                                                             1993-present
Manufacturing, fabric sourcing, pattern-making, design, web design, catalog design, sales, accounting, marketing, promotions, choreographed photo shoots, managed a team of ten athletes