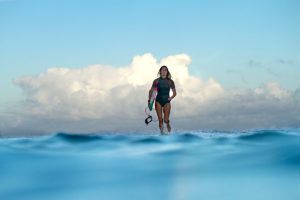 "About LaneSki"
Lane "LaneSki" Davey is an extreme action sports pioneer, clothing designer, journalist and educator who lives on the Northshore of O'ahu, Hawai'i. She works as a lecturer at the University of Hawai'i Mānoa and teaches classes in religion and English.
Lane was born in Nashville, Tennesee in 1970, but moved with her family to Seattle in 1978 and then to Hawai'i Island in 1985. Laneʻs mother registered her in gymnastics, ballet and tap at the age of 5 years old because she was always on the jungle gym or climbing trees and even had to be rescued by the fire department one afternoon at Oak Hill elementary school because she climbed too high and the teachers were afraid she wouldnʻt get back down safely on her own. She became an elite level gymnast who took her skills to the streets in the early eighties and became one of the first and few women to dance in the early b-boy (breakdancing) circles of Washington state. She met the Seattle Circuit Breakers who anointed her as "LaneSki" and cultivated her knowledge and love for Hip Hop Kulture. In 1985 her family moved to Hawai'i Island and she took up surfing in 1987. In 1989, she moved to Oahu to pursue a fashion degree at the University of Hawaii; Mānoa and found herself falling in love with some of the worlds most notably dangerous waves. Despite the challenges of being a haole girl in the surf during that time, especially one who was almost completely self-taught, she persevered and eventually found herself paddling out to 2nd reef Pipeline and 15-18 ft Waimea which were relativity unknown to women at that time. She won the state championship at Ala Moana Bowls in 1994 while promoting her new clothing line Us Girls which was the first (or one of the first) to produce a womenʻs boardshort and design functional apparel for women surfers. In 1998,  she traveled the world on the ASP professional tour with a surfboard under one arm and a sample bag under the other while still manufacturing her surf wear for 50 clothing stores across the U.S. and managing a distributorship in Japan. 
During the rise of the womenʻs surf market during the late nineties and early 2000s, Lane began working as a freelance journalist for the swath of emerging womenʻs magazines, shops and organizations that were quickly overrun by the larger and increasing corporate male surf industry. Lane wrote for several surf magazines while also being featured in them as a pioneering surfer and designer. She wrote a blog for the Honolulu Star Advertiser and Oceanic cable for over a decade before returning to school in 2009 to study religion and colonization.
Currently, she is pursuing a Ph.D. in English and dissertation on surfing that will include elements of a pedagogy she has coined "intelligent movement" after the lyrics of founding Hip Hop artist KRS One. She teaches religion and English and introduced ENG273 Surfing (He'enalu) Literature and ENG271 Hip Hop Literature as new courses that are offered in the current UH catalog. LaneSki is still an avid and extreme surfer who is still active in the Hawai'i Hip Hop community and is committed to serving as an educator in the Hawaiian islands and abroad.